Prompster™ for iPad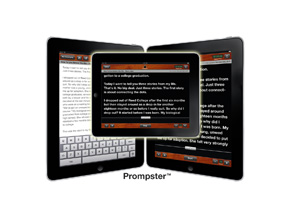 The Ultimate Public Speaking Companion!
Prompster™ is the ultimate teleprompter for iPad. It smoothly scrolls easily readable text for audible presentation. Eliminate cue cards, flash cards, notes and scripts forever.
Perfect For Business Presentations and Public Speaking
It is the ideal app for practicing and delivering public speeches, lectures, podcasts, radio scripts, video scripts, and for any scenario that requires a speaker to communicate with an audience using notes or a script.
Accolades
Macworld.com's David Dahlquist says "…why should the big boys get all the fun? With Prompster you can turn your iPad into a teleprompter to practice or perform public speeches, lectures, or sermons." - Sept 14th, 2010.
"Apps like this one really do make the iPad a good business productivity tool." - iPadDaily.com
"When you first launch the app, the brilliance of the design will become apparent to you almost immediately as you will be confronted with a fantastic looking application." - iPad-Application-Reviews.com
Features
★ Scroll text at variable speeds
★ Tap screen anywhere to PAUSE scrolling at any time while elapsed time continues
★ Tap screen anywhere to RESTART scrolling
★ Tap and scroll text to quickly get to any section of the document
★ Tracks elapsed time
★ Tap to increase or decrease the scrolling speed on the fly
★ Tap to increase or decrease the font size on the fly
★ Create or edit documents within Prompster™
★ Copy-n-Paste text from Email, or any other app that contains text
★ Transfer .txt documents using iTunes file share
★ Export .txt files via email
Prompster Pro™
Public Speaker Pro includes a built in digital audio recorder
★ Great for practice sessions or live presentations
★ Hear your speech the way others do
★ Improve your speaking skills by listening to recorded sessions to identify areas that need improvement
★ Transfer recorded audio files to your Mac or PC using iTunes file share
Take your speaking skills to the next level with Prompster Pro™