Practice Pal™ for iPhone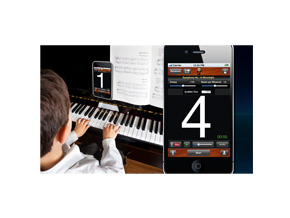 The Perfect Practice Companion For Musicians!
No matter what instrument you play - be it piano, guitar, violin, drums, oboe or your own natural voice, Practice Pal™ is the perfect companion for rehearsing and improving your skill.
Metronome And Digital Audio Recorder
Practice Pal™ is an audio visual metronome and digital recorder that allows musicians to record multiple takes of performances during a practice session.
Each recorded session can be saved for measuring progress over time.
A session can also be shared via e-mail with an instructor for interim feedback between formal rehearsals.
Features
★ Adjust Tempo and Beats Per Measure
★ Large visual count off to help you keep pace and improve timing
★ Record and save your practice sessions to measure progress over time
★ Send recorded practice sessions to your instructor for feedback via e-mail
★ Transfer your saved recordings to your computer via iTunes Sharing
★ Ability to practice with metronome only (with audio recorder off)
★ Ability to practice with visual metronome only (without audible tick)

Take your musical ability to the next level with Practice Pal™